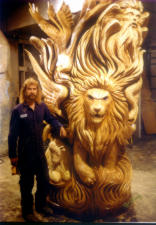 While visiting our links page please make sure to stop by Bradford Rhea's Online Studio also. You will find an assortment of Bradford's Tree and Marble sculptures pictured. Bradford Rhea feels his art is spiritually inspired, and contributes his creations and success to the Lord.

Bradford Rhea has been sculpting 1975. He has helped to make Sterling Colorado known as the "City of the Living Trees."

Bradford"s work has gained him National and International recognition. Bradford Rhea designed and carved a staff for then President Clinton to give to the Pope during his visit to the United States! Click HERE for more about the Vatican Staff.

The tree sculpting Bradford Rhea has done, due to the age of the wood pieces, are now being cast into bronze sculptures thanks to Sterling Colorado's Save The Sculptures Foundation. Brad also has custom memorial sculptures he has done in the Bronze medium and plans to do additional work within this area. Please do see Bradford Rhea's Memorial's Page while visiting his site.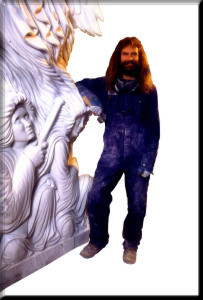 Bradford Rhea no longer sculpts in wood as his medium but instead, in recent years, Bradford Rhea has been sculpting in Marble and has finished his creation "Exordium". And is currently sculpting "Transfiguration."

Bradford is currently working on this life-sized bronze sculpture of Jack Annan which was commissioned by Northeastern Junior College. See his Works In Progress page.