Bradford Rhea
Written March 09, 2001

"The process of sculpture, particularly the subtractive method, is similar to the irrevocability of our daily lives. Every decision you make, you must live with. It is this unforgiving nature of the sculpting process that intensifies my passion for sculpture."-Bradford Rhea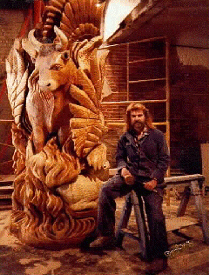 Born in Denver, Colorado in 1954, Bradford has experienced a lifelong affinity for the arts. He studied Fine Arts at the University of Colorado and also spent three months learning from the masters in Florence, Italy. Bradford also obtained a degree in Nuclear Medicine and eventually moved to Sterling, Colorado to work at Logan County Hospital and to pursue his interest in sculpture.

For over a decade, Bradford carved trees in and around the Sterling area. Currently, he is pursuing his original dream of sculpting marble. He recently completed a 21,000-lb. marble sculpture of seven angels, and is presently working on a 30,000-lb. block of Colorado Yule marble.

"Within the stone is a message far greater than the emerging forms may outwardly reveal. Every strike of the chisel should be delivered with the intent of finding and expressing our very purpose on earth."-Bradford Rhea



----------------
Quoted From Sterling Journal-Advocate
By BEATA MOSTAFAVI
Friday, January 03, 2003

His sublime sculptures gave Sterling its famous nickname "City of the Living Trees" since his first local creation was unveiled nearly 20 years ago.
But behind the fame, Bradford Rhea continues to live and work nearby as a modest and shy artist whose endeavors have only made him more retiring.
About half a block down Merino's main street, the long-haired, blue-eyed Rhea quietly works in his shop…
In the far back corner, behind a door plastered with a poster of Raphael Sanzio's Angels, the 48-year-old sculptor creates his art amidst shelves lined with paint cans and chisels, molds of hands and a framed wall hanging of "A Sculptor's Prayer."
It is in this room that Rhea falls into the trance of sculpting.
"I love the fact that it is so much like life," he says. "Every decision you make is irrevocable. You run into things you didn't expect, and there's no putting pieces back, so you have to learn to work with what you've done."

From his first local sculpture in 1983, Rhea's work has evolved with the shifts in his own life, which he says has gained a deeper spiritual meaning through the years.
He doesn't rely on sketches or models - just the Bible.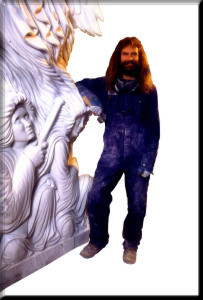 … "I had always dreamed of being a sculptor, but I didn't know why until I realized that I had a purpose much greater than myself. I had to find a way to glorify God. I'm inspired by Scriptures. That's my driving force."
His spiritual sense is mirrored in his work, which has included "Seraphim," a multi-faceted sculpture of creatures like the lion and bull described in Revelations 4:6 and his more recent "Exordium," seven white angels blowing their trumpets from Revelations 8:6.
Not comfortable in big groups, Rhea almost seems to seek refuge from the rest of world when he works on his sculptures.
"…It's my way of communicating with the world."
Admitting to his shyness, he half-jokingly calls himself an "introvert."
Sterling's serene and quiet climate, he adds, limits distractions and allows for seclusion from the fast-paced, busy life, letting him "find a focus."

But his journey to town was one of many twists and turns.
He initially pursued his love of art … and studied fine arts at the University of Northern Colorado.
... after traveling to Florence, Italy, to study the marble sculptures of his idol Michelangelo, whose books still dominate his reading collection.
"I was so overwhelmed by such great art that I didn't create anything for two years," he remembers…
The Bear Valley, Colo. native switched gears and instead earned a degree in nuclear medicine in 1979, and moved to Sterling to work as a diagnostic technician at the hospital. But his artistic craving quickly re-surfaced, and he quit his job to sculpt.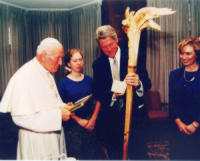 He attributes his success to the …loyal fans and to God.

"But I give the most credit to the good Lord. I never would have imagined any of this happening. I think it's incredible, but I'm also humbled by it."

"It (speaking about the staff Bradford Rhea was commissioned to create by then United States President Bill Clinton for a gift to give to Pope John Paul II) was awe-inspiring and something that had never been done before," remembers Chamber of Commerce executive director Tim Edgar. "We're very honored to have Mr. Rhea in (the area)."

While biblical scriptures drive his inspiration, he sometimes plays background music to boost his creative energy - ranging from rock to Bach's classical tunes.
"Whatever fits," he says.

… knowing you can affect people's lives, hopefully in a positive way, is the one thing that keeps you going."