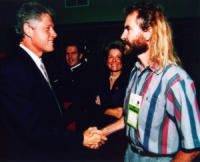 Quoted From Sterling Journal-Advocate
By BEATA MOSTAFAVI
Friday, January 03, 2003

One of the townspeople's favorite Rhea stories, which he doesn't mention unless asked, is the request in 1993 that came from a protocol officer for the U.S. State Department.
The officer wanted to know if he could carve a walking stick. But he said he'd never designed something so small, wondering "Is this a gift?"
Her reply was, "I'm not supposed to tell you this, but it's for the president to give to the Pope."
In seven short days, he finished the staff, carved out of aged honey locust, and depicting two merging faces of Jesus on the cross and Jesus rising.
"It was my most stressful deadline," he says, mentioning that larger sculptures can take from 2,500 hours to years.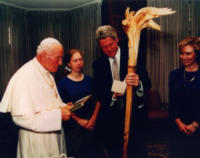 He modestly pulls out two frames from Pope John Paul II's visit to Denver. One shows President Bill Clinton handing the staff to the Pope, and the other displays Rhea's handshake with the president.
"I didn't even know I was going to meet the president," he says. "Afterwards they took me to the back room, and there was a half circle of cardinals and then me at the end.

"It was awe-inspiring and something that had never been done before," remembers Chamber of Commerce executive director Tim Edgar. "We're very honored to have Mr. Rhea in (the area)."

Exordium is completed and available now!
For the details to aquire this exquisite Marble Sculpture
called Exordium, Beginning of a Sermon (Revelation 8:6)
see contact options below.

It is also possible to commission for custom works of art

Contact Rhea's studio for details and scheduling via

Email: thesculptor7@gmail.com

or by phone at (970)520-1199

Mail to:
Bradford Rhea
P.O. Box 74
Merino, Colorado 80741