The "Angel Tears" Project is a fundraising effort by the artist for the local charity organization called "Community Caring Hands" This organization addresses a variety of needs in the community.

"Angel Tears" are chips of white marble from an in-process sculpture by sculptor Bradford Rhea. Monumental sculptures of angels and other spiritually inspired subjects are currently being carved from massive 10 to 15 ton blocks of marble in the sculptor's Colorado studio.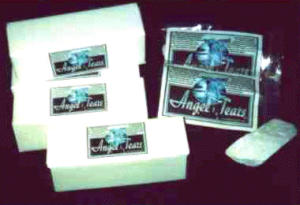 The marble, quarried in the Crystal River Valley within the Rocky Mountains of Colorado, is estimated to be 50 - 60 million years old. This relatively rare sparkling white marble was formed by the metamorphosis of dense black limestone caused by heat within the crust of the earth. Masses of molten rock called "magma" created the heat necessary to re-crystallize the black limestone into the almost pure white Colorado marble.


Supplies of the Angel Tears are limited.


One box container is $5.00 plus $3.00 shipping and handling. Each box contains one Angel Tear.
All Proceeds will benefit Community Caring Hands


Please Make Checks payable to:
Community Caring Hands

The artist upon request will sign Angel Tears.


Please Send Requests to:
The Sculptor
P.O. Box 74
Merino, CO 80741