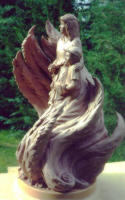 This was a memorial statue done for the family of Miranda and Mitchell Whittaker. Shown here in it's clay form, Bradford Rhea's sculpture of both children, brother and sister, was later bronzed and attached to the granite stone at the place of final rest for these children.
The following is quoted from a thank you to Bradford Rhea with permission and blessings from the family.

The Family of Miranda Paige & Mitchell Whittaker would like to express their heartfelt thank you to Bradford Rhea!

Although shown here in clay form, the sculpture of Miranda Paige and Mitchell Whittaker has been sent to the foundry for bronzing. After our tragic loss of both these children, the family commissioned Bradford Rhea to make a sculpture of these children to memorialize their children's lives. This was a gift to the children's parents, Mark and Stacey Whittaker, and brother, Josh Whittaker, from all the other family members. The statue has such a remarkable likeness of the children that it is like looking at a picture of them. Many who view the sculpture will know what Miranda and Mitchell looked like for generations to come. We are so happy we were able to get Bradford Rhea to do the sculpture. He is renowned for his work! He was immediately thought of to do the work. Bradford states that he is spiritually inspired and we believe this is what helped him to create "our" children in this sculpture! We wanted something very personal, unlike the commercial items that are available; Bradford has achieved this for us. Bradford has done the sculpture of Miranda Paige and Mitchell with perfection!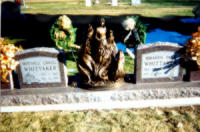 We hope that the sculpture will, when viewed, bring awareness to others. Mitchell had nueroblastoma, a childhood form of cancer, and Miranda Paige, after having been sexually assaulted as a very young girl of 12, took her life. We want the sculpture to bring questions to those who see it. We would like to see it bring a desire for more information, and to help educate others. Bradford has helped us bring this sculpture into existence, and for that, we cannot thank him enough. The sculpture is another piece of our memory of Miranda Paige and Mitchell. You will, after the bronzing process, be able to view the sculpture at the Holyoke Cemetery, where both children have been laid to rest.

The Family of Miranda Paige and Mitchell Whittaker